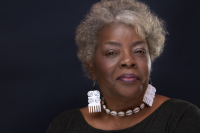 I am a woman in love with the power of the word. As a seasoned storyteller, I enjoy performing myth and folklore from many cultures. I love books, writing, music, gardening, and cooking. I am also a mixed-media artist using recycled materials especially fabric, fiber, and paper. I enjoy world travel.
My interests include nature-based spirituality, human liberation, global food security and cultural exchange.#LuisahTeish
Expertise Creative non-fiction,Short Story,Scriptwriting, Storytelling, Ritual Theater,Spiritual & Cultural History
Skills Reading,Writing, Research and Reviews.Writerfolio I provide a buffet of services to help you fulfill your creative projects. All services are protected by signed non-disclosure agreements, realistic work schedules, and payment contracts outlining retainers, fee schedules, and supply requirements. They include but are not limited to: Copy writing: Memorandums of Understanding. Abstracts for presentations. Speeches. Emails. Lectures. Lesson plans. Progress reports. Commitment statements. Requests. Effective complaint letters. Copy reading: Editing for grammar, spelling, punctuation and word choice. Content editing with recommendations for improved clarity, continuity and style. Research Assistance: Subject investigation, relevant citations, resource guides, and bibliography. Reviews: Book reviews and endorsements. Scripts, fiction manuscripts and performances review. Movie reviews. Radio, video interviews. Consultation: Assistance with idea generation. Dissolving writer's block Encouragement and support Mark my word, when we work together your words will sparkle with clarity, beauty, and new life.
Location New Orleans, La.